The AllonsLaReunion.com website intends to help you organize your stay in Reunion Island. It is the ideal way to select the multiple services available to you.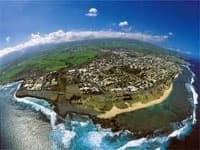 From holiday accommodation (hotels, furnished apartments, villas, chalets, cottages, gites and B&Bs), vehicle rental (car, motorcycle, scooter or bicycle), to the many outdoor activities (at sea, in the mountain, in the air or family activities), restaurants of all kinds, tours of local heritage and wellbeing services, you can choose from many providers during your stay in Reunion.
Thanks to our listings classified by categories, the www.allonslareunion.com website will facilitate your choice among the numerous tourism professionals of Reunion Island, according to your desires and your budget.


Reunion Island offers a multitude of very different types of accommodation. In addition to large structures such as hotels or residential hotels, you will mostly find small accommodations such as self-catering flats or cottages, bungalows, gites and guest houses, an ideal formula to discover the cultural richness and warm welcome of the Reunionese people. Feel free to explore all the possibilities of accommodation in Reunion Island.
Search through over 153 accommodations listed in our "Accommodation" section!

Car rental
Lush Reunion Island deserves that you do not miss its hidden treasures. That's why renting a car is strongly recommended.
Bike lovers will find motorcycle, scooter and even bicycle rentals. Groups can opt for a minibus with driver. Finally, the bus networks provide access to most sites, but you'll have to be patient ...
Visit the Vehicle category or search directly among the 59 car rental companies listed on our site!
Leisure on the island
With its very steep landscape rising to over 10000 feet, Reunion Island is a top destination for mountain lovers. Seawise, do not miss a boatride to dive with colorful fish, practice big game fishing, greet dolphins or admire the frolicking whales ! You can also enjoy surfing, kitesurfing, stand up paddle boarding, or jet skiing! Not to mention the sky of Reunion, which you can criss-cross in a paraglider, a microlight, a helicopter or ... free falling! Families will be happy to see that children will be healthily kept busy with many family activities.
41 activities in water, air or in the mountains! There's something for everyone's tastes and all ages!
The restaurants on the island
Many varieties and styles of cuisine are present in Reunion Island, thanks to the gastronomic influences from Asia, Europe and Africa which gather to give you the finest Reunionese cuisine. Let your taste buds travel! In exotic and varied environments, enjoy all the flavors of the island mixed up in its cuisine! The chefs will prepare unknown fruit, heirloom vegetables, fresh fish, carris and rougails, in their own inventive, traditional, sophisticated or popular, always memorable, way.
With the criteria proposed find one of the 17 restaurants that will satisfy your hunger and cravings!
Visits in Reunion
Yesterday and today's Reunion opens its doors wide open! If you're a History and culture buff, visit museums, old mansions and places of worship! As a botany enthusiast, walk through parks, gardens, trails and orchards! Technology lovers, visit the factories and distilleries! Thus discover the colonial history that has shaped Reunion, the industry and agriculture that animate the island today, and the natural beauty of a department listed as World Heritage by UNESCO.
7 addresses to venture off the beaten tracks and let yourself be guided in Reunion!
NEWSLETTER