Kite, Surf, Paddle and Sea Kayaking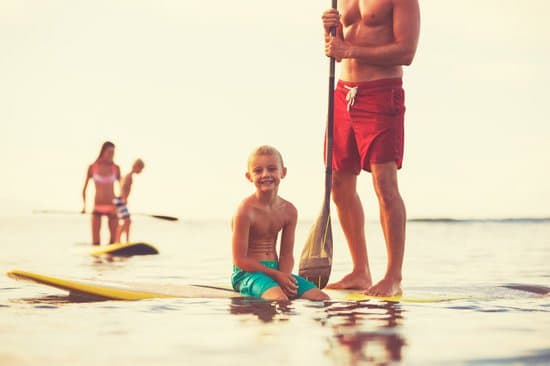 Reunion Island, thanks to St Leu's famous left wave in particular, has long been an essential step for the world surf championship. Unfortunately, since 2011 Reunion has been suffering from the "shark crisis". Hence, many amateur surfers have had to give up their favorite sport, while the professionals have left the island or changed water activity. Some continue to surf their favorite waves, depending on the weather conditions and the time of year.
Others have turned to other derivatives of surf board sports: Stand Up Paddle and Kitesurf. Practiced mainly in the lagoon, under the protection of its barrier reef, Kite Surfing and Stand-up Paddling know more and more followers. Many windsurfers began kitesurfing in recent years and benefit from a beautiful water body and winds suitable for sliding.
Our partners :

Stand Up
Paddle boards
For a ride on the lagoon of La Saline les Bains, all through the day time, PLANCH'ALIZE rents paddle boats, canoes, kayaks and Stand Up Paddles. An ultimate zen sport, the practice of Stand Up Paddling helps build muscle while observing the fish and coral of the lagoon.
Stand Up
Paddle boards



Kitesurfing Sessions in Mauritius
Kitesurfing is taught in the form of training sessions in Mauritius. With KITE SURF REUNION, the FFVL approved school in the Indian Ocean, I've been training students (4 people max per week) since 1999 with a method adapted to the changing equipment and practice. Easy progression through correcting video, lots of practice, individualized progress.
Kitesurfing Sessions in Mauritius


Stand Up Paddle (SUP)
Another more and more popular sport is Stand Up Paddle surfing ("SUP"), native of Polynesia. It is also practiced primarily on the tranquil waters of the lagoon, but some users sometimes take their boards and paddles in the waves.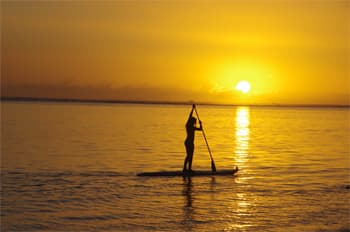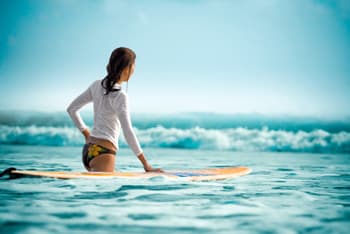 Surf spots
-
For fans
In St-Gilles, les Roches Noires, les Aigrettes, la Digue, l'Hermitage, Boucan Canot (bodyboard). Spot of Trois-Bassins. In l'Etang-Salé, le Pont, Manapany (bodyboard).
- For experienced surfers
In St-Leu, the famous "left". In St-Pierre, la Jetée. And more "secret" spots to discover ...
Sea Kayaking
Another water activity, usually performed in whitewater, flourished on the coast: Sea Kayaking. Just like Stand Up Paddling, sea kayaking is accessible to most people and combines sport and discovery of the coral fauna and flora. Single or two-seater, sea kayaking or canoeing is practiced alone or in groups, as an autonomous rental or a boating expedition, guided by a trained instructor familiar of the nautical environment.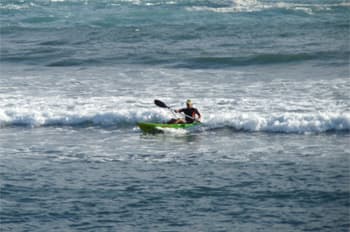 What is the surfing weather like in Reunion ?

The table shows the waves' height and direction. This numerical weather model is fairly reliable up to three days. However, it does not take into account the effects of the wind on the island, or, to a lesser extent, on the swell. Please note that the wind direction must be corrected taking into account the highly uneven terrain of the island! For example, in the lagoon of La Saline les Bains, a general southeast wind gets round the south of Reunion, turning south on the west coast of the island ...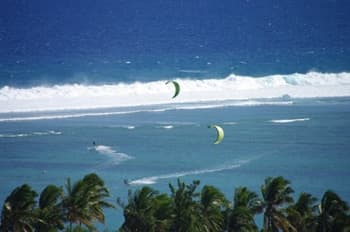 NEWSLETTER