Practice Spots

- For beginners
As for skiing, start with the green slopes, then you may be tempted by the blue slopes, still accessible. Or simply discover the quiet coastal paths which are less steep ...
- For fans
The blue runs (in particular Maïdo) or red runs(such as the "Volcano" station).
- For experienced mountain bikers
The black runs down from Cilaos or Maïdo, or the Volcano (30 km long with 1,300 m of difference in altitude!). The former Mégavalanche route going from Tévelave to St Leu.

- Also try Quad biking !
Two companies offer you to discover the joys of quad biking: with mountain bike wheeled vehicles, ride the paths of the Etang Salé forest, and even downhill on the Dimitile slopes for the more daring !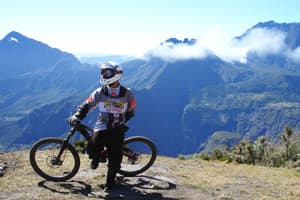 For crazy mountain bikers ...
* The "Mégavalanche" departs at 2000 meters high and arrives on the beach of St Paul. This sport event attracts champions from all over.
* The "VTT Run Tour", a sport expedition in stages over several days, is gaining steadily in reputation.