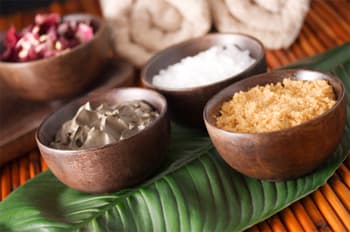 The scrub
Ideal for preparing the skin to tan, a scrub removes the dead skin cells accumulated on the surface which prevent it from breathing. To stimulate cell regeneration and surface blood microcirculation, some use microbeads, salt or an exfoliating cream that will remove dead skin. The beauty specialists will make your skin soft and clean, ready to tan!
The hot stone massage
An ancient technique known by American Indians for thousands of years, it is also called "Stone Therapy" or, for the Japanese version, "Fujitherapy". More than a cosmetic treatment, a session of hot stone massage aims to boost your flow of vital energy, to provide mental and muscle relaxation in order to appease the vicissitudes of modern life.
On this volcanic island, the placing of basalt stones is a real return to the origins and a moment of pure relaxation. In addition to the lava rocks, marine stones and marbles are also used for their ability to capture heat and bring energies.
By alternating hot basalt and cold marble, blood circulation is stimulated, lymphatic flow is boosted, and the body's energy centers are rebalanced: that's thermotherapy. Everyone can enjoy the benefits of a massage with hot stones, with few medical contraindications. Thus in wellness centers, practitioners determine the temperature suitable for the subject's health and profile in order to effectively relieve muscular tension and other chronic pain.