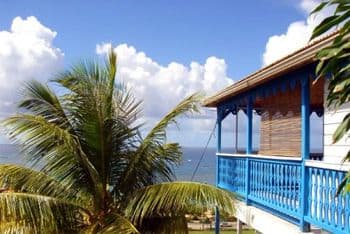 In French, what we commonly call bungalows are light wooden cottages (although the walls of some bungalows are plastic), as well as chalets, that have the smell of holidays in Reunion island. Is it because they evoke the shacks in which, as children, we wanted to pend the night? Bungalows usually are one-storey houses, although they sometimes have a small mezzanine for sleeping. Some are sometimes built on stilts, which adds to their

Accommodation in Bungalows or in Chalets in Reunion island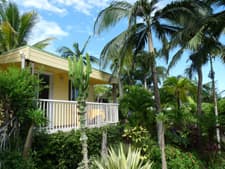 Accommodation in bungalows
The bungalows, contrary to what one might think, do not come from North America, but from India. Hence it is quite logical to find them in Reunion, since the island is so imbued with Indianness. The Hindi word "bangala" or "bungalow" designates a small single-family thatched home that served as an abode to the first English settlers came to trade on the coast of Bengal in the seventeenth century. Even today, this term refers to a small one-story house cleverly arranged in order to contain all parts necessary for everyday life. So you can cook there, stay there and relax for a pleasant holiday in Reunion island.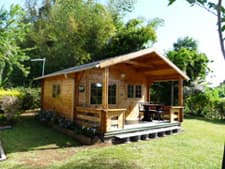 Furnished chalets
The word "chalet" is reminiscent of the traditional mountain buildings that are found in the Swiss and Savoie regions. Again, the mountainous terrain of Reunion island is a natural setting for these small wooden buildings, the sloping roof of which will never be covered by snow however. Sometimes equipped with a fireplace, they bode well for warm and friendly evenings with family or friends aspiring to a well deserved rest after a day wandering the trails.


Tourist Labels
Some rentals in Reunion island display a label that guarantees a higher or lower level of service depending on the classified accommodations. Nevertheless, one should bear in mind that other accommodations, non-classified and which do not display any label, also offer quality services.
The label "Meublé de Tourisme" is, for example, issued by the prefecture after a declaration to the City Hall and an inspection by the prefectoral services. In order to get this label, the accommodations must meet the minimum criteria of comfort and interior finishing defined by ministerial decree; then follows a ranking from one ("Simple comfort") to five stars ("Exceptional amenities and environment").
The national label "CléVacances" is approved by the Ministry of Tourism and also certifies the level of services of
apartments, residences
and
houses, as well as villas and character houses
. The criteria imposed by the tourism professionals from Reunion island who control the housing and assign keys (one to five keys again) here relate to equipment, comfort, environment, but also the reception.