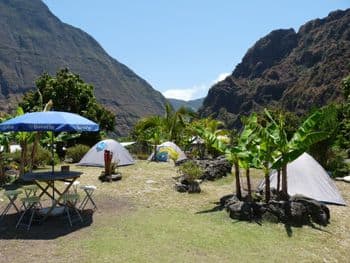 Do not miss the natural aspect of Reunion Island, on the seaside, in the countryside or in the mountains. For those looking to live in harmony with the lush ubiquitous nature of Reunion island, in a safe way, camping is an exotic solution, away from the hubub of civilization, which brings you back to the basic values of a more authentic life. The offer is still modest in the island, but some campgrounds with various operating modes (tents provided or not, camping on the farm, in the heart of the mountains, on the beachfront ...) already host camping fans all over Reunion island. In addition, projects are expected to emerge in the coming months …

Camping and Glamping in Reunion island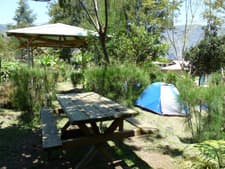 "Turnkey" campsites
Like hiking "light" and stay on a budget? No need to carry your tent, your stove or your pots and pans on the steep hiking paths or on the seaside! Some campsites indeed offer camping tents with mattresses, pillows and quilts, already planted in landscaped grounds with bathrooms (showers, toilets) and barbecue. Often a guest table is available on site, not to worry about the transportation and preparation of an invigorating dinner.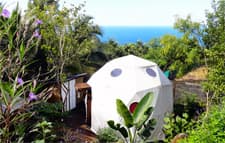 Glamping in Reunion island
But what is "Glamping"?
The contraction of the words "glamour" and "camping" defines a new concept which aims to satisfy nature lovers wishing nevertheless comfortable services and wanting to live a unique adventure. What a pleasure indeed to feel surrounded by nature in an unusual accommodation! Very often the designers of these new upscale resorts are careful to respect the environment, and prefer discreet infrastructures in harmony with nature. Let the professionals take care of installing the accommodations and supplying everything, and come enjoy a luxury stay in the great outdoors, an enchanted interlude with family, friends, or with your loved one ...