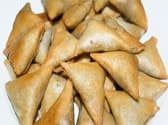 The Samoussa
One has to go back to 1828 to find the first samosas in Reunion Island. At that time, the first Indian indentured workers (or coolies) bring this Indian specialty with them directly from Pondicherry. Taking its name from the Hindi "Samosa", it consists of a thin wheat dough filled with vegetables, meat, fish or cheese seasoned with spices like coriander and turmeric. Folded in the form of a triangle, it is then fried in oil and preferably served hot, as an aperitif. That's when all the flavor of India invades your taste buds and imbues you with exoticism ... You'll easily find some in the markets, snack bars, in shops (some of which have become quite famous for it), and of course as an appetizer in restaurants.
The Bouchon
Very popular as a snack or as an aperitif, the bouchon comes from China and is a sort of round Chinese dumpling filled with some flavored sausage meat, wrapped in a rice dough, and steamed (or sometimes fried). They are presented with cocktail sticks along with a selection of hot sauce, a soy sauce, ketchup or mayonnaise. Ideal if you feel peckish or ... in a sandwich, grilled with chips (ask for an américain bouchons)!
The Bonbon Piment
Imported to Reunion Island by the Indo-Muslim community, bonbon piments have become classic appetizers in Reunion. It is a mixture of pois du Cap (« beans from the Cape ») soaked in spices and herbs, in the form of a small orange donut in which a hole has been made in the middle to facilitate cooking in the frying oil. More or less spicy, you should ask before you taste it ...