Culinary in Reunion island
There is 0 result for Culinary in Reunion island.

Refine your choice of accommodation using our search engine below :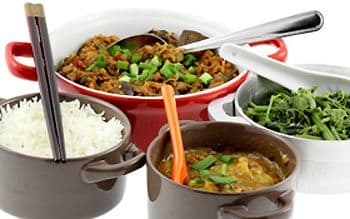 The Reunionese cuisine
Along with the settlement of the island, every peoples' dishes have evolved and have been mixed together to give a unique cuisine. The Indians, the Chinese, the French, the Malagasy ... have all contributed to this delicious mix that took its inspiration from local produce: the many tropical fruit (lychees, guavas, mangoes, bananas, anonas, passion fruit, red guavas, not to mention the tasty Victoria pineapple ...), vegetables (chayotes, jackfruit, aubergines, hearts of palm, "brèdes" (the leaves and stems of some plants), sweet potatoes, lentils ...), meat or fish ("boucané" (smoked meat), sausages, poultry, goat meat, Cod, prawns, "zourite" (octopus), swordfish, marlin, dolphin fish ...), all of which is seasoned with spices like turmeric (localy called "saffron"), ginger, "zoiseaux" chillies, nutmeg , cinnamon, kaffir lime ...

The traditional "cari"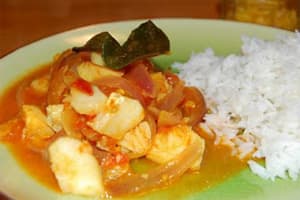 The flagship recipe inReunionese cuisine is a sort of curry called "cari" in local creole. Meat, fish or shellfish are cooked in a base of garlic, onions, thyme, tomatoes in abundance, turmeric and ginger, which remind us that the former "Bourbon Island" stood at the intersection of spice routes.
In your plate, this dish is served with various accompaniments, served in a specific order: first the rice, then the "grains" (pulses in a sauce, usually lentils or beans), and possibly "brèdes" (the leaves and stems of some plants cooked in a broth), and lastly, the curry itself. But it would be inappropriate to forget the "rougail" (usually very spicy condiments), to be served in small quantities at the edge of the plate.
You should know that the word "rougail" means both a condiment and a variant of "cari", used for dishes with fresh or smoked sausages, and cod.
Drinks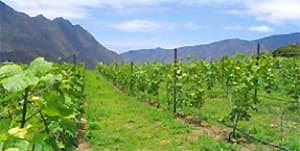 Wine of Cilaos
The only Reunionese wines are produced in Cilaos, one of the three cirques of the island, the most favorable to viticulture. For generations, people from Cilaos have been cultivating the Isabelle vine which gives a sweet wine served as an aperitif. Since 1998, other grape varieties benefit from the climate of Cilaos and allow the production of red, rosé and white wines. For more information, see our page "Restaurants Cilaos ."
Besides, since 1999, Cilaos has given its name to a sparkling mineral water extracted from the Veronique spring and bottled in the village. Widely marketed in the island, the Cilaos sparkling water is clear, fresh and supple with a slight salty note.
Given the climate in Reunion, one can easily understand the enthusiasm for local beer, more particularly the Bourbon, called Dodo, and the Fischer, both brewed on the island.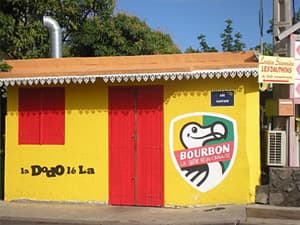 The Dodo
A real must-have, the Dodo is a beer brewed locally since 1962 by Brasseries de Bourbon. Its real name is Bourbon, yet this light lager has always been nicknamed Dodo, like the extinct bird that was considered from Reunion (actually from Mauritius), itself a symbol of Brasseries de Bourbon. You will have many opportunities to see the advertising slogan "the dodo lé la" on the fronts of the snack-bars and other shops, although it is now strongly challenged by its Mauritian cousin Phoenix.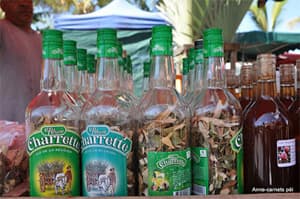 Rum
Since the early nineteenth century, the cultivation of sugarcane provides the island's economy with its leading export product: sugar cane. But as in any land of sugar cane, you can't talk about sugar cane without talking about rum, and Reunion is no exception to this tradition. Here, some enjoy this drink pure (served in shops), others prefer the punch, mixed with juice, but most locals will be happy to let you taste their rhum arrangé (flavoured rum) : it is a mixture of traditional rum and various fruit or leaves (including faham, a regulated wild orchid, vanilla beans, citrus zest ...) which is allowed to macerate for 6 months to 2 years. Each Reunionese person flavours their rum in their own way, which gives you the excuse to (reasonably) taste each maceration offered after a meal in a table d'hotes or restaurant.
Alcohol abuse is detrimental to your health , please drink with moderation..
NEWSLETTER