Family mountain activities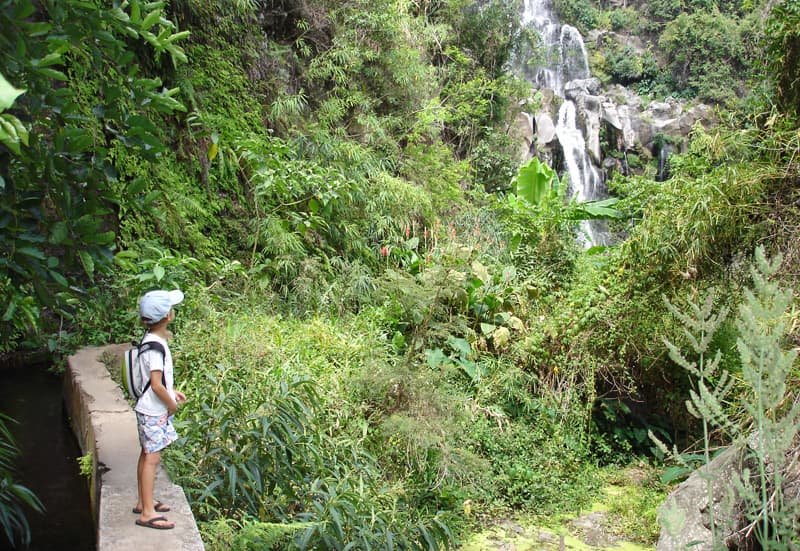 Although an island, Réunion is also and above all a country of mountains. Many more or less experienced hikers come to visit its breathtaking mountains, and trail or ultra-trail enthusiasts come from all over the world to compete with champions during the famous Grand Raid, for example.
But Reunion's mountains also offer families many opportunities to have fun with children and adults. For starters, the "sentiers marmailles" (children's trails) are suggested itineraries for groups with young children; a maximum length of two hours, they follow marked and secure trails. (Download "Les sentiers marmailles : le guide des balades faciles à La Réunion")
For those who like more thrills, we can only advise them more exhilarating activities like tree climbing or summer toboggan run.
Our partner :

Electric bikes for the whole family

From St Leu, E-VELO rents and sells EAPCs (Electrically Assisted Bicycles). With family or friends, whether you are the sporty kind or riding enthusiasts, you'll ride effortlessly along the mountain trails to enjoy the best views the intense island offers! EAPC Rental for adults and children (from age 8) - trailer - baby seat ... for riding on your own or on a guided tour.
Electric bikes for the whole family




Informations about the tree climbing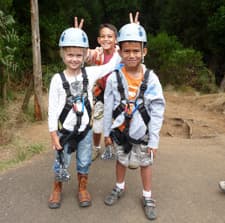 Who hasn't dreamt, as a child, of climbing trees, moving from branch to branch for the more adventurous? Adults and children can seek (dizzying) adventure with a tree-top circuit with friends or family in the cool heights of Reunion Island! A real challenge for some, feel the sensations of the heights, the joys of climbing and a fun activity like no other in complete safety! It is now possible for adventurers from 3 to 103 years old who want to have fun, or individually, physically and mentally challenge themselves, in recreation areas located in the mountains of Reunion.
The forests
The cryptomerias from Japan were planted on the island in the 1950s for the production of timber, especially used for the manufacture of kiosks that house the many Sunday picnic adepts. Unsurprisingly adapting to the climate of Reunion between 3000 and 5300 feet of altitude, they are also resistant to many cyclones. Up to 25 meters high, cryptomeria forests have become ideal playgrounds for tree-climbing enthusiasts who decided to share with the public their ingenious and playful facilities.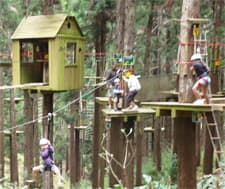 The courses
Rope bridges, zip lines, swings, tunnels, Tarzan-like jumps at the end of a rope, tightropes, nets and slope planes to climb, walkways, Tibetan bridges, giant steps ... test your balance, agility and boldness! Though the recklessness is relative since children are automatically accompanied by an adult, and all circuits are followed by qualified professionals. At a height of several meters, you will always be belayed by a system of continuous lifeline guaranteeing security and serenity. Given the enthusiasm for this activity, a reservation in advance is highly recommended.
Summer toboggan run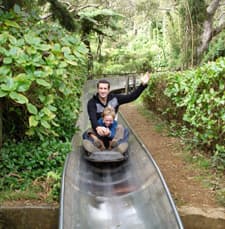 A true family leisure, summer tobogganing is a mind-blowing but very safe activity. Authorized for children from the age of 3 (accompanied by an adult if under 8 y.o.), the sleds embark adults and children for a lift of 40 meters in altitude that offers the opportunity to enjoy the essences of the forest of the heights of the West: tamarins, hydrangeas, calumets (local bamboo), arums ... A change of scene in itself.
After such contemplation, off you go for a few minutes of thrills, with a controlled descent (brake lever to adjust speed) along a steel track alternating banked and softer bends, curved and straight parts and more or less steep descents ...
The arrival is smooth at the end of the slide. One has only one desire: to share his feelings with others and do it again!.
NEWSLETTER